Corded Kits
Regular price

$519.00 USD

Regular price

$550.00 USD

Sale price

$519.00 USD

Unit price

per

Regular price

$590.00 USD

Regular price

$620.00 USD

Sale price

$590.00 USD

Unit price

per

Regular price

$660.00 USD

Regular price

$699.00 USD

Sale price

$660.00 USD

Unit price

per
Cordless Tuning Kits
Regular price

$579.00 USD

Regular price

$610.00 USD

Sale price

$579.00 USD

Unit price

per

Regular price

$650.00 USD

Regular price

$680.00 USD

Sale price

$650.00 USD

Unit price

per

Regular price

$720.00 USD

Regular price

$759.00 USD

Sale price

$720.00 USD

Unit price

per
Accessories
Regular price

$120.00 USD

Regular price

Sale price

$120.00 USD

Unit price

per

Regular price

From $15.00 USD

Regular price

$0.00 USD

Sale price

From $15.00 USD

Unit price

per

Regular price

$100.00 USD

Regular price

Sale price

$100.00 USD

Unit price

per

Regular price

Sale price

$10.00 USD

Unit price

per

Regular price

Sale price

$20.00 USD

Unit price

per
Corded vs. Cordless
Cordless

Tunes 4-5 pairs on a single charge
Full recharge in 2 hours
Can order backup battery packs
Freedom to tune anywhere (even the top of the training course)
No cord to manage
Same base unit as the corded model. AC adapter can also be used with this model.

Corded

Unlimited tuning
Same base unit as the cordless model. Battery pack can be added later
Wheel Selection
Medium

Our most popular wheel designed to be used every night before training/skiing to maintain edge.
Only takes off 1/10,000th of an inch with each pass.
Equivalent to 400 grit

Coarse

Best for sharpening dull skis or skis turned less frequently
Good for changing edge angles.
Equivalent to 200 grit

Fine

Polishes the edge to a near mirror finish.
Best for racers.
Not intended to sharpen the edge, just polish.
Equivalent to 800 grit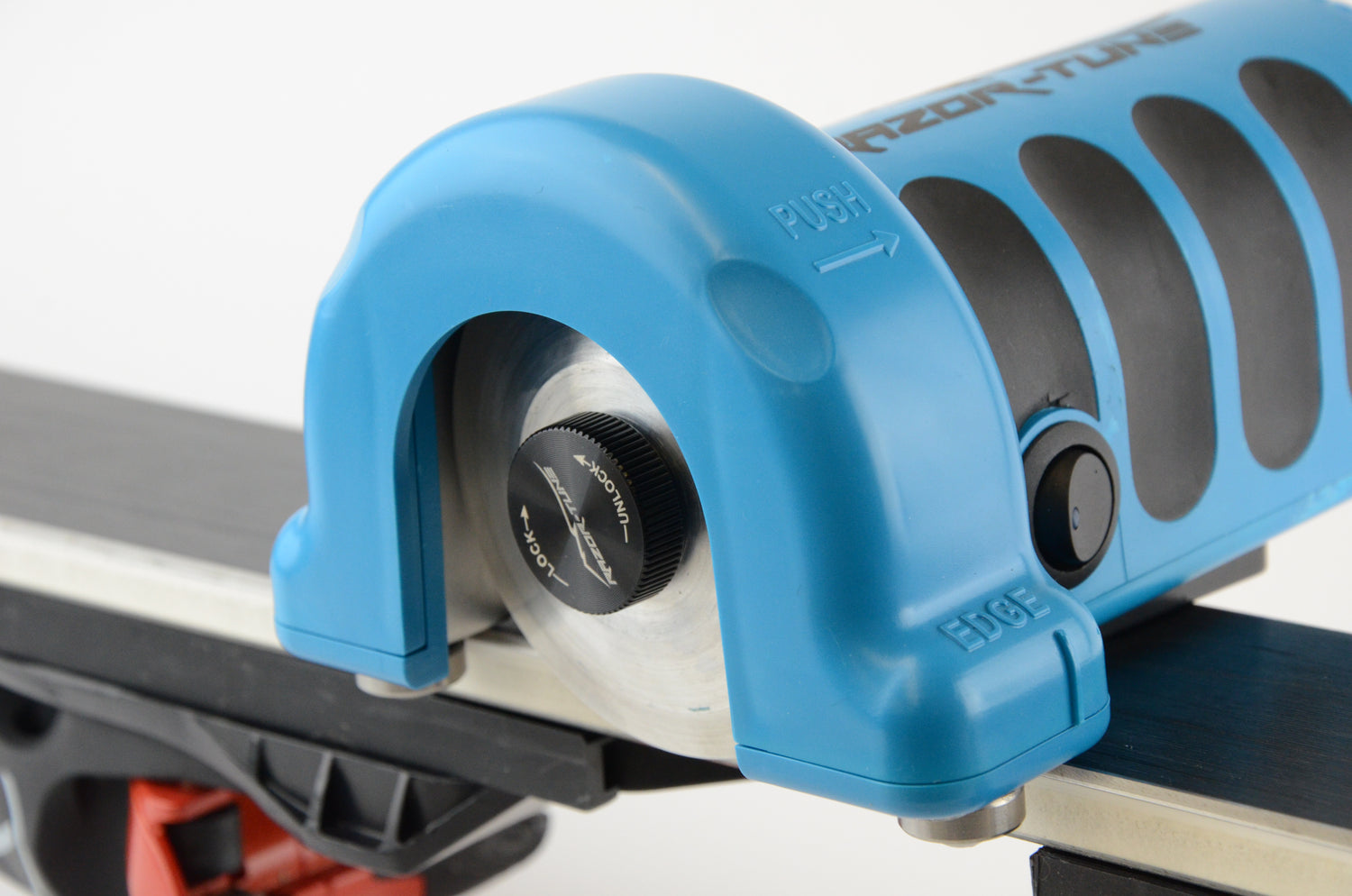 Easy to use
Tune Flat in the vise
Unlike hand tuning, the Razor-Tune tool is designed to be used while the ski is mounted flat in a vice. The wide ski base makes a stable platform to guide the tool along the edge.
Spring-Loaded Abrasive Wheel
An internal spring automatically sets the tension of the wheel against the ski edge. This eliminates any adjustment by the user making it super easy to use and almost error-proof.
High Torque Motor
Unlike other tools, our high torque motor allows you to firmly align and seat the tool against the edge before turning the unit on.
Interchangable Side-Angle Plates
The Razor-Tune side edge angle is set by interchangeable angle plates on the bottom of the tool.  The plates are large to provide stability and a consistent edge angle.  The standard kits come with a 3° plate for racing and a 2° plate for recreational skiers.  1°, 4°, .5°, and custom angle plates are also available.
Frequently Asked Questions
That is a tough question, becuase it is highly dependent on how you tune. Based on our measurements, if you do light tunes between each training day (1-3 passes), you should get 800-1000 tunes. If you do heavier, less frequent tunes, you will get 500-800 tunes per wheel. Either way, the wheels will last a long time.
Yes. Most people choose the standard 3 degree for racing and 2 degree for recreational skis, but we also sell 1 and 4 degree plates. Purchase additional angle plates
The WC Angle Kit includes 1 degree plate, 4 degree plate, and 1/2 degree shim to be used under any whole degree plate. (For tuning at 1, 1.5, 2, 2.5, 3, 3.5, 4, and 4.5 degrees.)

Need a more custom angle? Just let us know the angle you would like, and we will 3-D print you a custom shim free of charge.
Yes! The power supply operates on a wide range of voltages, 100-240VAC 50/60Hz. We offer a selection of international power cords upon request at no extra charge. The tuner and power supply are both CE compliant.
Yes. We normally ship using USPS or UPS to international destinations, but sometimes other carriers are more cost effective depending upon the country. Contact us for the best price on shipping. Please note, due to airline restrictions, battery packs ordered separately from kits must be shipped via UPS and may incur an additional Li Ion surcharge.

We also have local resellers in France, Austria, Sweden, and Canada. Contact us for details.